Being out of ice can be a major headache, especially when your party is going great, everyone is enjoying themselves with a drink in their hands, but suddenly, the time for a refill comes, and you start to panic. That is why today, we'll be sharing with you everything you need to know to get yourself the best-crushed ice maker.
We love crushed ice makers because they are oh so convenient; they don't require a water hookup, so they're easy to take with you on the go. As long as you can find a standard outlet and clean water to pour, you'll have ice within minutes. Built to work fast, you won't have to wait too long for your next drink, 'on the rocks'
Before making any investments, you'll want to consider a few things before choosing a crushed ice maker. With many options in the market, it might sound a bit challenging to know what would be a good choice, but if you want to improve your drinking experience, you deserve the best-crushed ice maker you can find. Below we'll be sharing with you some of the best-crushed ice maker options out there right now.
Crushed Ice Maker FAQs
What is a crushed ice maker?
Portable ice machines are simple little contraptions that do just what the name says: you pour in water, and they make ice for you. They're small in size, so they don't take up much counter space, and they're easy to store when not in use.
Why do you need a crushed ice maker?
The "running out of ice" scenario above is just one of the many reasons that a portable ice maker may be worth the purchase for you. They also come in handy for any of the situations for which you normally find yourself buying a bag of ice. Common uses include Camping, tailgating, boating, RV trips, etc.
They're also helpful in a number of other spots where people need more ice than a freezer's ice maker produces, like in-office break rooms or retirement communities, where many different people want to be able to refill drinks throughout the day.
They are also helpful in many homes, both for parties when you have more guests than you can accommodate with the ice maker built into your fridge and for families that go through a lot of ice every day.
Suppose you regularly find yourself in situations where you need more ice. In that case, a portable ice machine will be a convenient and affordable solution, allowing you never again to buy ice at the convenience store.
How do crushed ice machines work?
The ice crusher breaks the ice cylinder into small pieces, which pass on to a collection bin. The size of the ice bits depends on the crusher mechanism. Some crushers grind the ice into fine flakes, while others produce larger, irregularly shaped ice chunks.
Is nugget ice the same as crushed ice?
Nugget ice is layers of flaked ice frozen together. These air pockets also make Nugget ice so chewy and such a joy to munch on. Crushed ice is made from large cubes that have been crushed into smaller, more jagged pieces of ice.
What to keep in mind when choosing a crushed ice maker?
Quality of Crushed Ice: Check customer reviews to see what kind of ice it makes. Some ice crushers produce finely crushed ice that's great for snow cones, while others produce coarse crushed ice that's better for drinks.
Capacity: Make sure the crushed ice maker can meet the demand for crushed ice. If it's just your family, even a small manual ice crusher will do.
Build Quality: Check the warranty and customer reviews to understand how well made, and durable the appliance is. Generally, ice crushers with stainless steel blades and hopper are the best. If it's a manual crusher, make sure the handle is sturdy, and the base has anti-slip legs.
Manual vs. Electric: An electric ice crusher is pricier, but it doesn't require much effort and can produce a lot of crushed ice in a short time. But if you are shopping on a budget and don't need lots of crushed ice.
Tips to care for your crushed ice maker?
The only part you'll need to clean regularly is the bin that holds crushed ice. Remove it from the appliance and wash it by hand or in a dishwasher (check if it's dishwasher safe).
Wipe the outside and inside regularly, but be careful not to touch the sharp blades with your bare hands, and remember to unplug the ice crusher.
It's also a good idea to air the inside of the ice crusher to prevent mold growth and to rust due to trapped moisture. After crushing ice, remove the bin and leave the hopper open.
Crushed Ice Maker
This countertop portable ice maker has wide applications with compact size. This countertop ice maker is easy to carry and operate with a portable and compact design.
It offers wide applications; whenever and wherever you are, ice is there. You can use it for bar, tea shop, KTV, kitchen, and office.
This ice maker produces nine ice cubes within only 6-8 minutes. It can even produce up to 26.5 pounds of ice per day, enabling you to have fresh and good ice every day.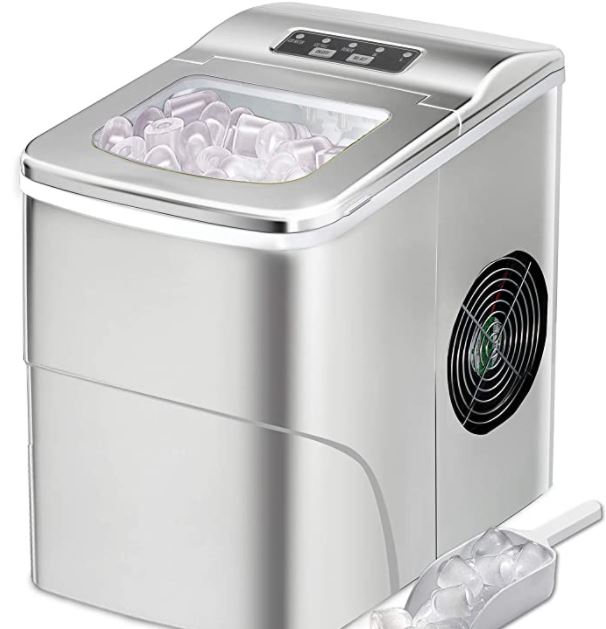 Pin
Features:
Intelligent control button
Ice size is optional
Ice Basket & Ice Scoop
The Silonn ice maker only takes 7 minutes to make nine bullet-shaped ice cubes. Fill 2L of water into the water tank; maximum ice capacity can reach 26 pounds in 24 hours.
You can make two different sizes of ice cubes. Small ice cubes can chill seafood and beer, keeping it fresh and cold. Large ice cubes are more suitable for beverages to achieve a rapid cooling effect.
The noise is lower than 35dB when making ice cubes, similar to a working refrigerator. The transparent lid allows you to monitor the ice capacity.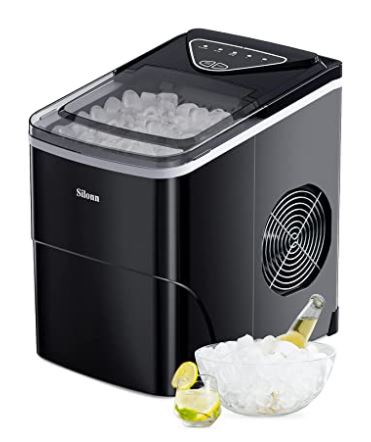 Pin
Features:
Two Sizes of Ice Cubes
Fast Ice Making
Quiet
Easy to Control
The LED design allows you to check the ice level and choose the size of ice cubes you want. The cover with the large see-through window makes it easy to see the ice basket and shovel.
The air outlet will keep this thing going through the whole party, and when it's time to clean up, you can quickly empty the ice maker with the drain plug.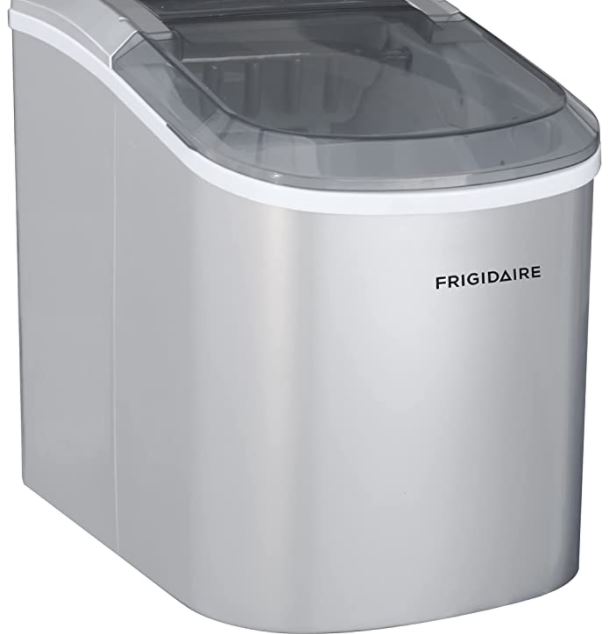 Pin
Features:
See-Through Window
Quiet
LED Desing
Serve up chewable, crunchable, crave-able nugget ice that's ready fast and retains its flavor, unlike traditional hard cubes. Refreshing nugget ice is made from compacted ice flakes and is perfect for cocktails, sodas, and other beverages.
This ice maker produces one pound of fresh ice per hour and has a large-capacity bin that holds up to 3lbs of crunchable nugget ice.
The innovative design avoids clumping and leaks by recirculating melted ice to the water reservoir; you'll always have fresh ice on hand thanks to a smart, automatic ice maker that refills when your ice is running low.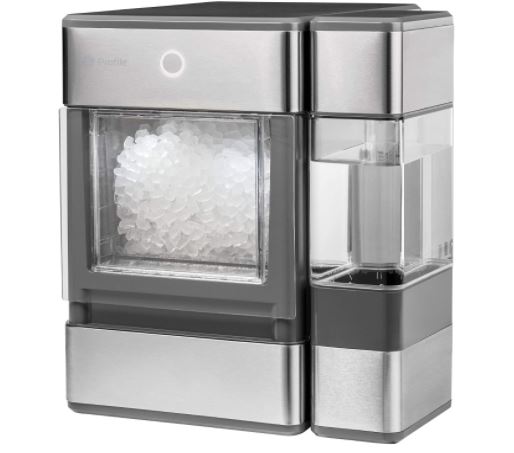 Pin
Features:
Built-In Bluetooth Connectivity
Portable
Side Tank
For any drink, cocktail, smoothie, wine bucket, seafood platter, you name it, this ice crusher delivers you with perfectly crushed ice every time.
The ideal tool to bring with you to parties and celebrations to create great-looking drinks. A great tool for bartenders and drink servers at restaurants.
With a simple crank of the handle, you've got yourself perfectly crushed ice without the need for confusing settings or various buttons to press.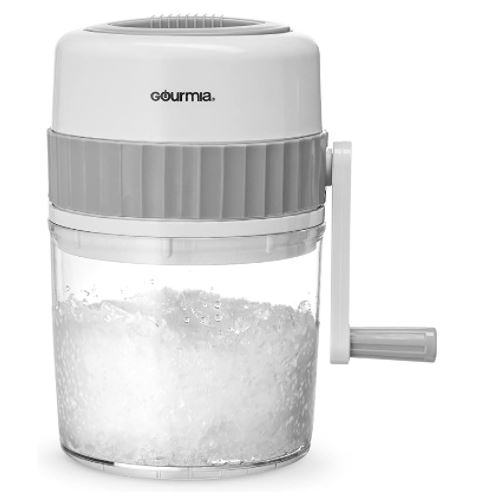 Pin
Features:
Stainless Steel Blades
BPA Free
Portable