This smart microwave may be one of our favorite appliances ever. Like many Wi-Fi-based devices, a smart microwave can be controlled remotely; a dream come true for busy mornings where you feel like you have to do a million things at once. That is why today, we'll be sharing with you everything you need to know to get yourself the best smart microwave.
Smart designs have been earning high praise since these allow you to play with specific sensor settings designed to perfectly cook popcorn, rice, frozen veggies, and frozen pizzas. There are so many smart modes to use it will be hard to pick your favorite.
Before making any investments, you'll want to consider a few things before choosing a smart microwave. With many options in the market, it might sound challenging to know what would be a good choice, but if you want to improve your microwave cooking experience, you deserve the best smart microwave. Below we'll be sharing with you some of the best smart microwave options out there right now.
Smart Microwave FAQs
What is a smart microwave?
A smart microwave is a microwave oven that connects to your smart home network, usually via Wi-Fi, and includes expanded features and capabilities usually associated with smart devices. Smart microwaves can communicate with you through your smartphone.
Smart microwaves can usually be connected to a Wi-Fi network or hub, connecting externally.
How does a smart microwave work?
A smart microwave works by connecting to your home wireless network, which allows you to control the device with your voice or via a smartphone app. Some even have bar code scanners for downloading information such as recipes and meal plans.
Can a microwave connect to Wi-Fi?
Yes. Microwaves and radio waves are physically the same, i.e.; both are forms of electromagnetic radiation. Some microwave rays can leak out and interfere with Wi-Fi signals. Like most things that have to do with "electrical signals," the answer begins with the following term: electromagnetic radiation.
Why would I need a smart microwave?
Track your cooking times and routines, perfect for fitness apps or simply watching when you eat. Most of these Microwaves have a Power-saving mode which allows you to save on electricity bills. Perfect for times when you're not at home (based on your routine), this is proof Smart Homes save you money.
What is the point of an Alexa microwave?
Sharp says the larger microwave can perform more than 70 Alexa commands to do things like start or stop the microwave, add time to the cooking cycle or cook at a specific power level. Because Wi-Fi is involved, the microwave's clock can automatically set itself when a network connection is established
Does Samsung have a smart microwave?
Samsung sells a range of built-in and freestanding microwaves in several color options, including models designed for installation over your range to save space. Samsung smart microwaves connect to the SmartThings app on a compatible phone or tablet.
What to keep in mind when choosing a smart microwave?
Countertop vs. over-the-range microwaves
While over-the-range microwaves offer considerable savings on space, they cannot be easily removed or relocated. They are also generally more expensive than countertop units.
As such, it is crucial to consider what kind of microwave will work best for your kitchen. For instance, mounting a countertop-specific microwave will create issues like lack of clearance and obstructed ventilation, so always check beforehand.
Ease of use
Owning a smart microwave provides several notable advantages. For example, some models come with the ability to adjust the unit's controls via a smartphone app and take voice commands through Amazon Alexa.
Some smart microwave ovens focus their technological efforts on providing an exceptional cooking experience. They do this through precise temperature controls, humidity sensors, and more.
Size
A properly sized microwave can significantly improve even the smallest kitchens, but it can only do so if it can accommodate your cooking vessels. For example, while a smart microwave with an internal capacity of 1.6 cubic feet can comfortably hold a 15-inch casserole baking dish, a microwave oven with 1.4 cubic feet can only have a nine by 9-inch glass baking dish.
Power usage requirements
If you are concerned about your new microwave increasing your bills, look for a model with Energy Saver or Eco Mode features. This significantly reduces your overall power consumption.
High-quality materials
Look for models that come in an attractive stainless steel finish that cleans easily with a damp cloth and is damage resistant. Look also for user-friendly options like a child safety lock, the ability to mute the alarm, and clear LED displays.
Smart Microwave
This microwave is integrated with Alexa, and using an echo device (not included) brings convenience by allowing hands-free operation by voice command or app control.
Pre-set menus include 23 popular foods like popcorn, pizza, vegetable, and more. The humidity sensor automatically adjusts cooking power to achieve optimum heating.
LED cavity light and energy-saving ECO mode help reduce energy consumption.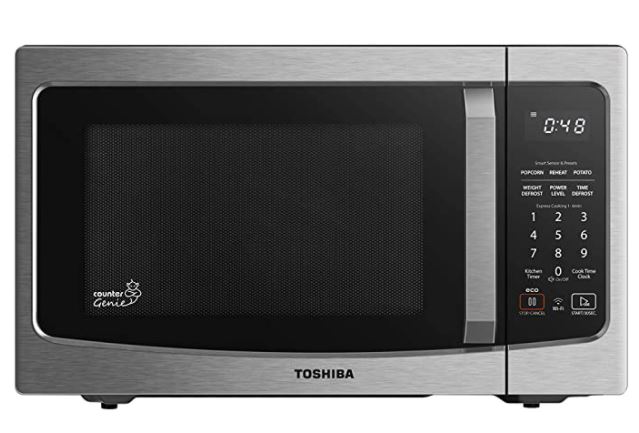 Pin
Features:
Updating Preset Menus
Humidity Sensor
Sound on/off button
Using your smart countertop microwave is easier than ever with the Sharp SMC1449FS, a family-sized 1.4 cu. ft. 1000 watt microwave oven.
With the Amazon Alexa App or an Echo device, you can enjoy hands-free cooking with over 70 Alexa voice commands.
Just connect your Sharp, smart microwave to an Echo device and automatically enable convenient voice commands. For example, ask Alexa, "Alexa, soften butter," and your new smart microwave will operate with a pre-set power level and set time.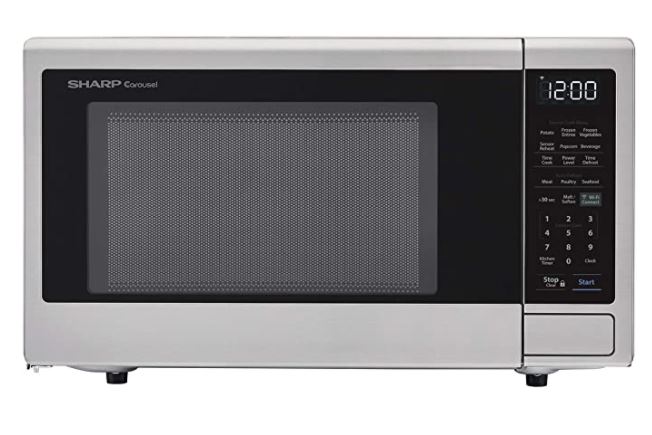 Pin
Features:
Stainless Steel
Works with Alexa
Hands-Free Cooking
White LED Display
This Toshiba microwave is ideal for apartment kitchens or office break rooms. Sensor reheating lets you optimally cook six of the most popular food items with the touch of a button.
This microwave oven features a sensor function that takes the guesswork out from cooking. The built-in sensor constantly detects the humidity level of the food during cooking, then automatically adjusts time and temperature for optimal results.
The microwave can be turned on for one to six minutes at 100 percent Power by simply touching the number of minutes you would like to cook. If additional cooking time is needed while the microwave is running, press the start button to add an additional 30 seconds of cooking time.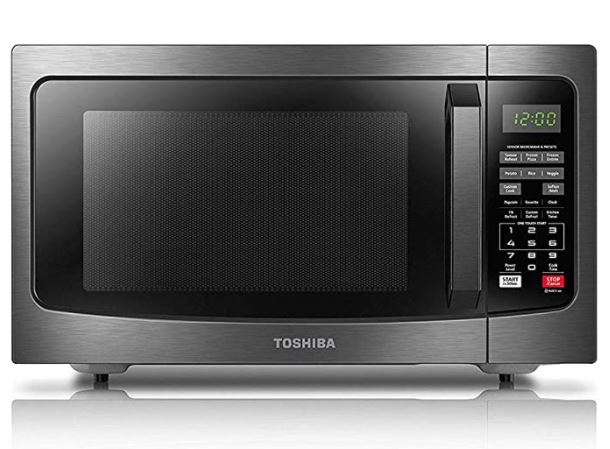 Pin
Features:
Stainless Steel Exterior
Large Digital Display
Easy-to-read Control Panel
A powerful yet small microwave oven and broiler in one, the Panasonic 2-in-1 Microwave Oven with FlashXpress Broiler (NN-GN68KS) is a multi-use kitchen appliance that makes cooking delicious family meals and snacks a breeze.
Now you can broil with grill-like results using the FlashXpress Broiler, or use it as a microwave to cook, defrost, and reheat food quickly and easily using intelligent cooking technology like Inverter, which cooks food evenly.
And Genius Sensor, which automatically calculates cooking and reheating times. Seven pre-set auto-cook menu options, a quick 30-second button, and a dedicated popcorn button are simple conveniences that make cooking easier.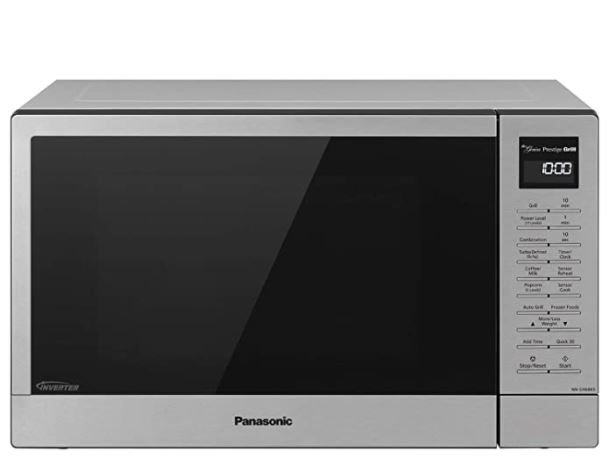 Pin
Features:
Genius Sensor Cooking
FlashXpress Broiler
Versatile
The Panasonic Countertop Microwave Oven has 1100 Watts cooking power. This Microwave oven comes with Smart Touch Controls, features a streamlined, numberless control panel that includes auto reheat and defrost, delay start timer, ten power levels, and Auto Cook.
Its minimal exterior footprint helps maximize limited countertop space. It has an Adaptable Glass Turntable that accommodates a variety of dish and plate sizes, including a moderate-size casserole dish.
A dedicated sensor makes quick, even thawing easier with no frozen centers or overheated edges.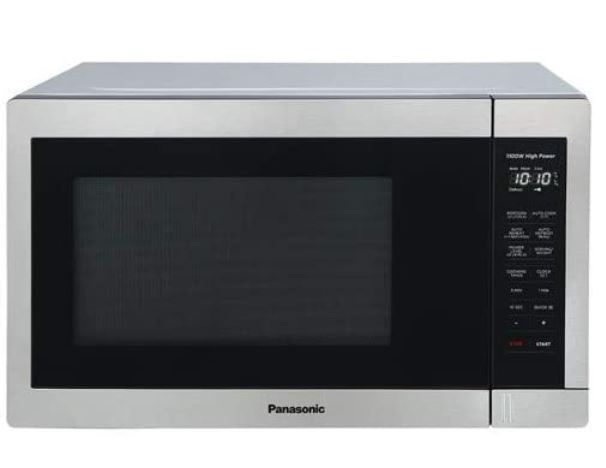 Pin
Features:
Smart Touch Controls
3-Level Popcorn Button
Countertop Installation
7 Pre-set Auto Cook Menus
The Farberware Professional 1.2 Cu. Ft. Microwave Oven is the ideal anywhere you need it for home or at work.
It offers 1100 Watts of output power for full-sized cooking that fits in a compact space. Whether you're defrosting, reheating, cooking, or snacking, the 10 Power Levels, multi-stage cooking, and 7 One-touch cooking programs simplify every task.
The Smart Sensor Cooking Technology monitors the temperature and amount of steam coming from the food to judge how much water remains and how long it should continue heating.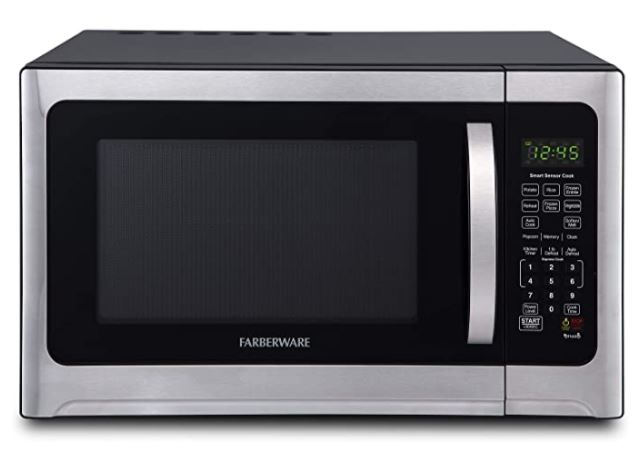 Pin
Features:
Stylish Stainless Steel
The LED Display
Speed Cooking
Are you also interested in checking out the best smart digital toaster? or maybe a crushed ice maker or smart smoker?