Are you a meat-lover who is tired of your traditional smoker? Then this is your sign to buy a smart smoker. Many of us don't want to bother with charcoal or watch a propane smoker with an eagle eye to ensure the temperature doesn't drift too far upwards. That's where the best electric smokers come in. So we'll be telling you all about the best smart smoker options.
Smart designs have been earning high praise since these outdoor appliances offer easy temperature control; just set it and walk away, and you never have to worry about dealing with combustible gas. As we dream about the weather warming up, you might as well get ready to start cooking outside.
Before making any investments, you'll want to consider a few things before choosing a smart smoker. With many options in the market, it might sound challenging to know what would be a good choice. Below we'll be sharing with you some of the best smart smokers out there right now.
Smart Smoker FAQ's
What is a smart smoker?
An electric smoker is an appliance you use to smoke meat, poultry, fish, vegetables, and more. Smoking is a cooking process surrounding food with wood smoke to infuse it with flavor. You can slow cook with cold smoke or cook faster with hot smoke. While traditional smokers burn wood or charcoal (or use gas), electric smokers use electric heating coils, similar to an oven.
Smart smoker technology allows you to control the settings from a smartphone or tablet with Bluetooth capability or from a user-friendly touch screen.
Are smart smokers as good as charcoal?
If your only priority is flavor, and you have the time and dedication to learn how to operate a charcoal smoker, you can get a better taste with a charcoal barbecue.
But if you want a smoker, you don't have to maintain that it's easy to fire up then an electric smoker can be much better for you.
How do smart smokers make smoke?
Electricity heats an element at the bottom of the smoker. Wood chips are placed above the heating element where they can smolder.
Can you use an electric smoker in the house?
Keep your smoker outside unless you are prepared to install some severe and restaurant-grade extraction system.
How do you clean an electric smoker?
It's important to keep your smoker clean and dry after each use. Avoid using any strong cleaners or large amounts of water, though.
All you need to do is wipe the surface after each use and remove any burnt food or creosote that might have built up.
Keeping everything dry inside will help you avoid mold.
If your smoker came with a window, you could follow this simple video to get it clean.
Lots of people use magic eraser pads with no chemicals. Another good trick is to use a homemade mix of hydrogen peroxide and baking soda. You could also use alcohol.
What to look for in a smart smoker?
Cooking capacity: How much food do you plan on smoking at one time? If you expect to smoke a few slabs of ribs or an occasional turkey breast, you don't need a giant smoker, but if you're planning on larger quantities of food that take a long time to smoke, you'll appreciate the space that a bigger model offers.
Portability: An electric smoker needs to be near an outlet when it's in use, but is that where you'll always keep it? If you're moving your smoker from storage to the cooking spot and back again, it's wise to look at portable units with wheels and a sturdy handle.
Controls: Just like many of today's appliances, you can find smokers with a wide variety of control options, from simple dials and buttons to digital controls. There are even some that include Wi-Fi connectivity so you can work remotely.
What are the top electric smoker brands?
Masterbuilt: The company has been around for over 45 years and sells various types of grill, including charcoal, propane, and pellet.
In 2017 Masterbuilt acquired the Smoke Hollow brand from Outdoor Leisure Products, although they continue to sell under their brand name.
Char-Broil: Char-Broil is probably better known in the gas grill space, selling a range of popular, affordable models.
Their grills were originally made in the USA way back in 1948; they are owned by W.C Bradley and manufactured in China.
Bradley Technologies: Based out of Canada, Bradley is most well known for producing an electric smoker that burns its own proprietary discs or "bisquettes" to create heat and smoke.
How much is a Bradley Smart smoker?
The new Bradley Smart Smoker has a suggested retail price of $799.
What can you smoke in a Bradley smoker?
Some of the best cuts to put in the Bradley smoker are ribs, brisket, and pork butt. Brisket is one of the premier cuts of beef. It usually has a healthy layer of fat that keeps the meat moist, making it ideal for extended smoking. Brisket can be tough and challenging to prepare with other cooking methods.
How do you clean a Bradley Smart smoker?
Wash the drip tray, racks, rectangular bottom tray, and drip bowl to remove grease. Wipe inside with a damp cloth to remove food and grease residue. Clean the bisquette burner slightly by using a brush or scraper. Do not use any kind of appliance cleaners for inside cleaning purposes.
Smart Smoker
It's loaded with additional features to help you take your cooks to the next level. Double-sidewall insulation maintains steady heat levels to give you even more consistent results, while Super Smoke Mode lets you amp up the wood-fired flavor with the press of a button.
WiFIRE® Technology lets you monitor your cooks, adjust grill temperature, and access over 1,600 recipes through the Traeger App or select smart home devices.
The Traeger Pellet Sensor mounts in the hopper so you can monitor pellet levels and receive alerts when pellets are low.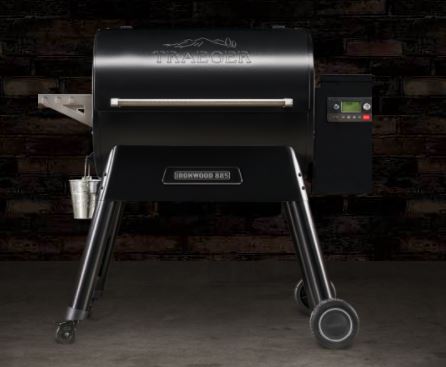 Pin
Features:
WiFIRE Technology
D2 Grill Controller
Double Side Wall Interior
All-Terrain Wheels
Locking Caster Wheels
Crank out enough food for a small family and enjoy a smaller overall footprint with the Woodwind 20. Keep it on the balcony, store it at the cabin, or frankly, just take up less space on your back patio.
Either way, you're getting the same deliciously smoked food backed by Camp Chef's reliable name. Equipped with the smart WIFI and PID controller, tastiness is only a tap away when using the Camp Chef Connect App.
Monitor your cook, set timers, and receive notifications when your food is ready to be pulled. We're not saying smaller is better, but if the brisket fits.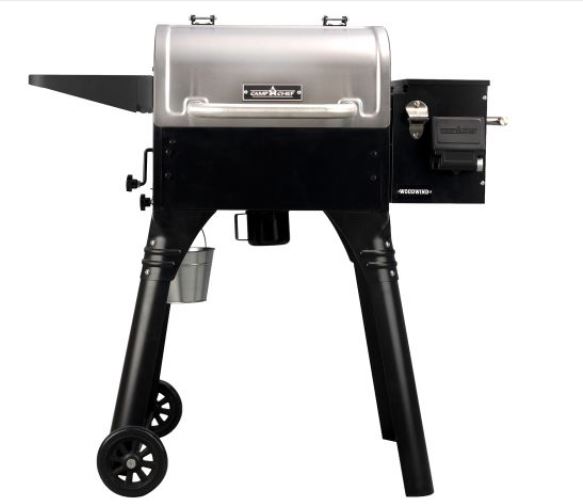 Pin
Features:
Includes four meat probes
New WIFI PID controller
Smart Smoke Technology
Camp Chef Connect App compatible
Bluetooth Smart technology allows you to monitor and control your meat and smoker temperature from your smart device or digital control panel.
A patented side wood chip loading system allows you to add wood chips without opening the smoker door.
Four chrome-coated smoking racks and interior light illuminates food in low light when the door is open.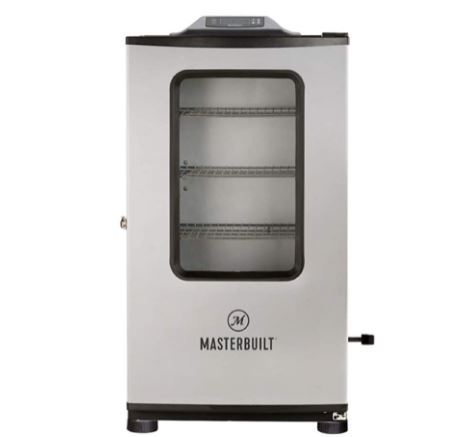 Pin
Features:
Bluetooth Digital
Corded Electric
Stainless Steel
The spacious 548 square inch interior means there is plenty of room to smoke various meats and vegetables.
The vertical footprint makes it a perfect size for patios and barbecue kitchens. Three stainless steel racks can be easily removed for smoking significant cuts of meat. Racks are dishwasher safe, making cleanup easy.
Features an easy-to-read thermometer on the front door for accessible internal temperature monitoring.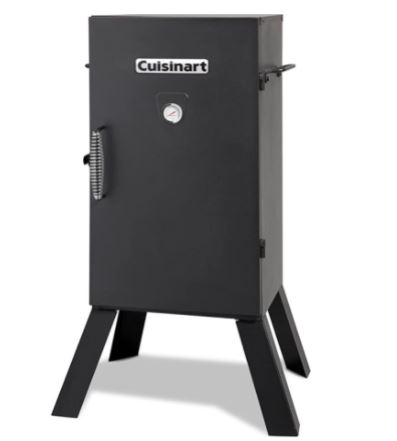 Pin
Features:
Corded Electric
Three stainless steel racks
Built-in Thermometer
The durable, rugged construction of our Bradley Smokers ensures that Bradley owners can create deliciously smoked food for a very long time.
Bradley Smokers allow you to smoke a wide variety of foods, all at the same time. Bradley owners can quickly and effectively smoke traditional favorites such as beef, pork, fowl, wild game, sausage, jerky, and vegetables.
CleanSmoke Technology utilizes uniquely-designed 100% natural Wood Smoking Bisquettes, which are dispensed along with a conveyor system.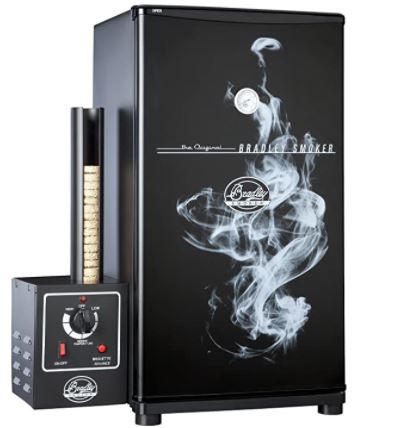 Pin
Features:
Corded Electric
Stainless steel interior
CleanSmoke Technology
Traeger Grills Pro Series 780
Traeger created the original wood-pellet grill as the ultimate way to achieve wood-fired taste; the Pro 780 takes it to the next level with precise temperature control. 500 °F Max Temp.
WiFIRE technology connects your grill to home Wi-Fi, and the Traeger app allows the user to control the grill from anywhere; Alexa technology allows you to do it all by voice.
The Pro 780 pellet grill offers 6-in-1 versatility to grill, smoke, bake, roast, braise, and BBQ all on the same grill.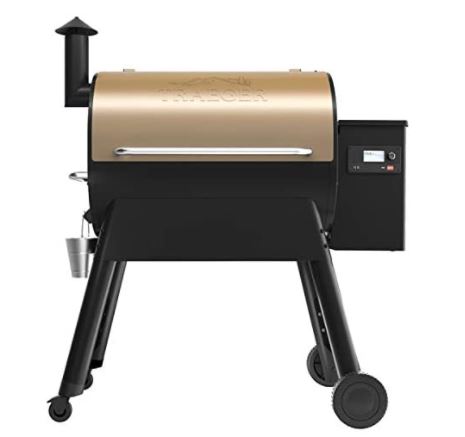 Pin
Features:
Versatile Cooking
Electric and Woodburning
WiFIRE Technology
What about checking out some sweet crushed ice makers from hot to cold?