Ninja is a manufacturer that makes home appliances like blenders and ovens. Generally, their blenders have an impressive build quality, and although they're mostly plastic, they feel solid and durable. This is why we'll be telling you today about the Ninja food processor.
Ninja is one of the biggest names in the small kitchen appliance industry. Its social media community boasts thousands of members. Within the Ninja product series, you can find four main products: countertop, drink system, kitchen system, and single-serve blenders.
If you need a food processor, you should stick to the kitchen system, which is the most complete package. It comes with a food processor attachment, and they also offer a spiralizer kit. Check out some of the best choices for Ninja Food Processor, and feel free to choose your favorite.
Ninja Food Processor FAQ's
Does the ninja work as a food processor?
Enter the Ninja Mega Kitchen System and Blender that doubles as a food processor. One purchase of this Ninja blender includes the Total Crushing pitcher, an 8-cup food processor bowl, two dough blades, and two 16-ounce Ninja cups with to-go lids.
Only a few models have a food processor attachment. If you're looking for one, that's what the Ninja Kitchen System offers. On top of the full-sized blender, you also have a personal smoothie maker and a proper food processor. That's three products in one blender base.
Why go for a Ninja blender?
The ultimate selling point of Ninja Blenders lies in its affordability and utilitarian features. Not only can it help you make refreshing smoothies, but it can also be your dependable kitchen companion.
Most of their jars, lids, and blade assemblies can go right into the dishwasher for an easy clean. Some of their blenders include a couple of unique attachments and accessories, like a food processor or a micro-juicer.
What can you do with Ninja food processor?
Some of the Ninja Food Processor functions include:
Chopping: Chop and puree the toughest ingredients with ease.
Slice & Shred: Dedicated blades and discs deliver consistent slicing and shredding results.
Dough: Evenly mix the dough in 45 seconds or less.
Is Ninja a good food processor?
A space-saving blender and food processor in one. The Ninja 3-in-1 Food Processor with Auto-IQ offers a vast array of functions in one appliance. Its performance remains solid, according to experts. It's easy to use and can be cleaned in the dishwasher, and it's also a great choice if you're looking to combine a few appliances in one.
Are Ninja appliances any good?
Ninja is a manufacturer that makes home appliances like blenders and ovens. Generally, their blenders have an impressive build quality, and although they're mostly plastic, they feel solid and durable. Most of their jars, lids, and blade assemblies can go right into the dishwasher for an easy clean.
Which Ninja kitchen system is best?
Experts' overall top choice is the Ninja BL660 Professional Countertop Blender because it's powerful and versatile and can handle individual servings or full-pitcher batches.
Why choose a Ninja Kitchen System?
The benefit of going for the Ninja Kitchen System right away is the complementary accessories. You can't simply buy a countertop model and decide later on that you also need a personal cup. That's not always the case with this brand. The thing is, there would be no blending cycles optimized for a single-serve cup or a food processor. Bottom line, if you need those accessories, jump straight into any of these Kitchen Systems.
Is Ninja or Vitamix better?
These two blenders are nearly neck and neck in our tests. The Vitamix food processor scores slightly higher for making soup, but Ninja rates a little better for ease of use. They're tied in the icy drinks, ice crushing, and noise tests.
Ninja Food Processor
The enhanced processing lid with feed chute and select-cut processing discs allow for precise shredding, slicing, and grating.
With built-in tamper specially designed to Power through frozen ingredients using less liquid for smoothie bowls or nuts and seeds for smooth nut butter.
They are designed to deliver better ingredient breakdown for perfectly smooth drinkables. It also extracts a drink containing vitamins and nutrients from fruits and vegetables.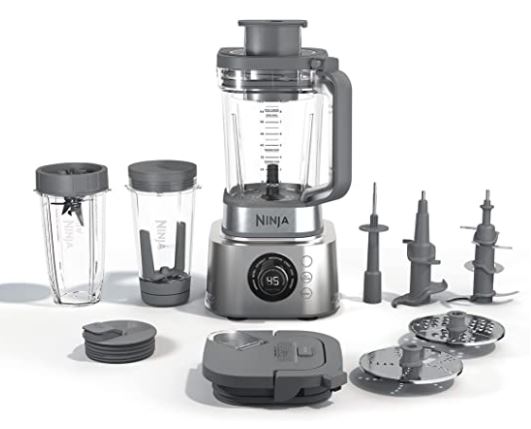 Pin
Features:
Silver
Stainless Steel
1600 watts
Ninja Total Crushing Blades will give you perfectly crushed ice for your smoothies and frozen drinks with 1400 peak watts of professional Power.
Five preset Auto-IQ programs allow you to create smoothies, frozen drinks, nutrient extractions, chopped mixtures, and dough, all at the touch of a button.
The 8-cup Precision Processor Bowl provides precision processing for even chopping and smooth purees.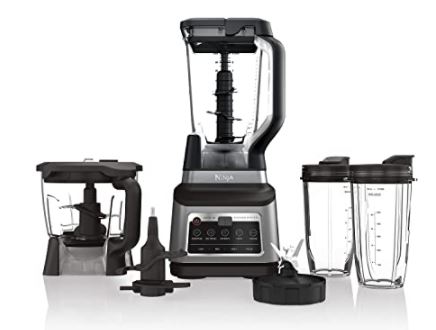 Pin
Features:
110 Volts
Auto-iQ features
Crushing Blades
Total Crushing Pitcher pulverizes ice to snow in seconds for creamy frozen drinks and smoothies with a powerful 2+ horsepower motor.
8-cup food processor bowl provides perfect, even chopping and makes up to 2 pounds of dough in just 30 seconds.
The powerful dough mixer has the torque to fold in ingredients quickly and evenly, making up to 2 lb. of dough in as little as 30 seconds.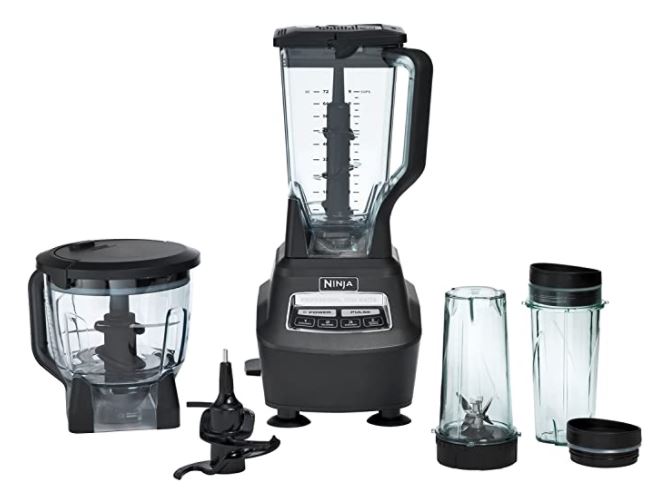 Pin
Features:
Nutri Ninja Cups
4 Versatile Functions
Food Processing
Ninja's most powerful blender system that crushes food processes and makes smoothie bowls and dough, all in one base.
Ninja Foodi Power Blender & Processor System with smoothie bowl maker and the nutrient extractor has variable speed control with smart torque to Power through at any speed and never stall.
1400-peak-watts make this Ninja's Best Total Crushing Blender. Also, with six preset Auto-iQ programs for one-touch smoothies, extractions, bowls, spreads, chopping, and dough.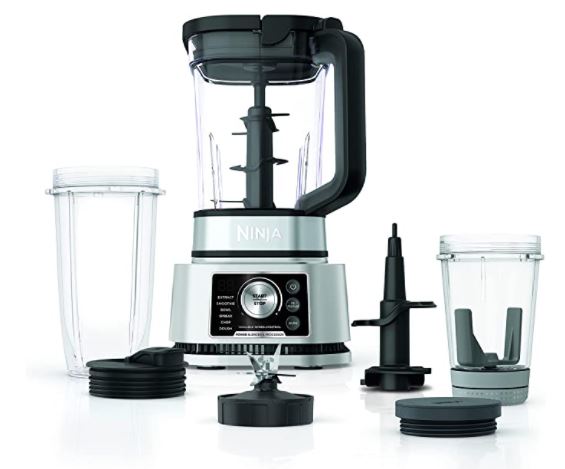 Pin
Features:
Auto-iQ programs
1200 watts
Variable Speed Control
The Ninja Master Prep Professional handles all of your chopping, food processing, and blending needs in 3 conveniently sized jars great for personal servings or for entertaining.
Put the Power in the palm of your hand with the versatile Master Prep Professional which crushes ice into snow in seconds, blends frozen fruits into creamy smoothies, and chops fresh ingredients evenly.
Now you can mince, dice, chop, blend, and puree in the 16 oz (2 cups) chopper bowl or larger 40 oz (5 cups) processor bowl and achieve perfect frozen blending in the 48 oz (6 cups) pitcher.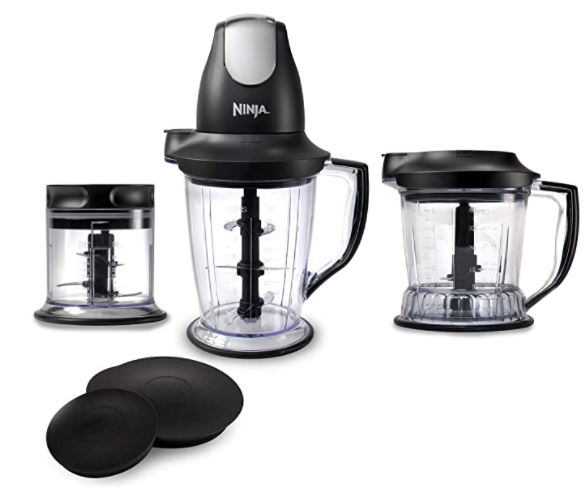 Pin
Features:
450-watt Power
Dishwasher Safe
BPA-Free
Some people use their Ninja Food Processor for crushing ice, which is not a bad thing but not ideal, for that we suggest you a crushed ice maker.