Aren't mornings much better when you're having that perfect cup of hot coffee? And isn't it the worst when you find out your coffee has gone cold? This is where smart mugs come in to become our favorite appliances ever. That is why today, we'll be sharing with you everything you need to know to get yourself the best smart mug.
Smart designs have been earning high praise since these allow you to keep your drink at the precise temperature you prefer and keep your favorite beverages nice and hot. Now you won't have to feel wasteful after countless times when you've been forced to dump your morning coffee down the drain because it has gone cold.
Before making any investments, you'll want to consider a few things before choosing a smart mug. With many options in the market, it might sound challenging to know what would be a good choice, but if you want to improve your coffee or tea drinking experience, you deserve the best smart mug. Below we'll be sharing with you some of the best smart mug options out there right now.
Smart Mug FAQ's
What does a smart mug do?
The smart mug, which Ammunition designed, connects to your phone through Bluetooth and allows you to set an ideal temperature for whatever you're drinking (up to 145 degrees Fahrenheit). Once the beverage reaches that temperature, the mug will maintain it.
Are smart mugs worth it?
Too often, with regular mugs, most have let their coffee cool down to the point where you end up dumping it out, but with a smart mug, you can make sure your coffee is always hot.
What is a smart travel mug?
All you need is to start using a smart mug. The best smart mugs allow you to keep your drink at the precise temperature you prefer and will keep your coffee or tea at, say, 131 degrees exactly throughout the rest of your afternoon meetings (yes, all of them).
What is an ember mug?
Ember is a design-led temperature control brand. The Ember Ceramic Mug is beautifully designed to be used in your home or at your desk and keeps your beverages at the perfect temperature from the first sip to the last drop.
What does an ember mug do?
The Ember smart mug allows you to set an exact drinking temperature, so your coffee is never too hot or cold. Ember then maintains your chosen temperature for up to 1.5 hours with the Ember Mug² 10 oz and up to 80 minutes with the Ember Mug² 14 oz – so your hot beverage stays perfect.
What is the best material for my coffee cup to stay the warmest the longest?
The type of cup that keeps coffee the hottest for the longest is the stainless steel vacuum insulated cup, which can keep coffee hot for as much as 6-12 hours. Battery-powered heated coffee mugs come in a close second as they can keep coffee at the desired temperature as long as the battery lasts.
Smart Mug
Ember smart mug allows you to control using your smartphone. Pair with the Ember app to set your temperature, customize presets, receive notifications, and more.
Ember Mug is functional without connection to the app and will remember the last used temperature. Out of the box, the Ember Mug is set to 135°F.
Ember heated mug intelligently senses when to turn on and off. The mug enters sleep mode when empty or after 2 hours of inactivity.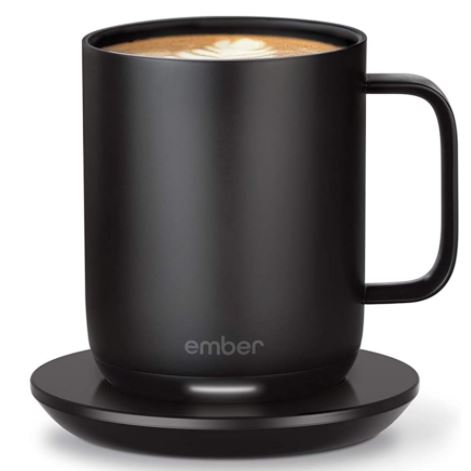 Pin
Features:
10 Fluid Ounces Capacity
Lasting Battery
Auto-Sleep
Pros:
Durable construction
App-compatible
Cons:
Designed to go wherever you go, the Ember Travel Mug 2 and its companion app on your iPhone or Apple Watch allow you to set your precise drinking temperature for hot beverages.
You'll be able to track caffeine consumption, save presets for your favorite drinks, name your mug, and more. Or you can adjust the temperature by tapping the touch display on the mug.
Ember also maintains your chosen temperature for approximately three hours, so your warm beverage stays perfect from the first sip to the last drop anywhere you are.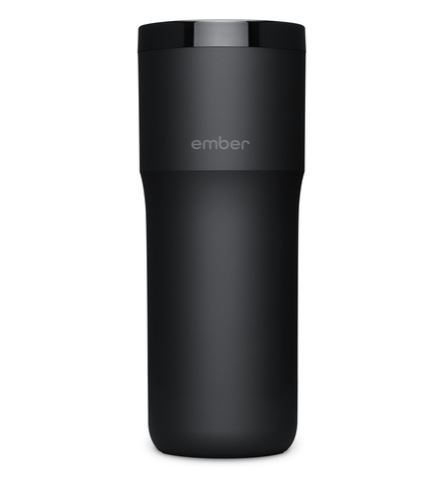 Pin
Features:
Leak-proof lid
12 fluid ounce capacity
LED display
Pros:
LED battery life indicator
Includes charging coaster
Cons:
This mug warmer is equipped with an advanced technology temperature control chipset, which can maintain your cup within the optimal drinking temperature range of 113°F (45°C) all day long.
The coffee cup heater uses a microsensor to control the automatic switch. You only need to insert the power adapter into the base then place the cup on the base; the heater will automatically turn on and heat up.
The leak-proof design prevents you from accidentally falling over the cup and damaging the coaster and makes cleaning easy and simple; just wipe it with a damp cloth.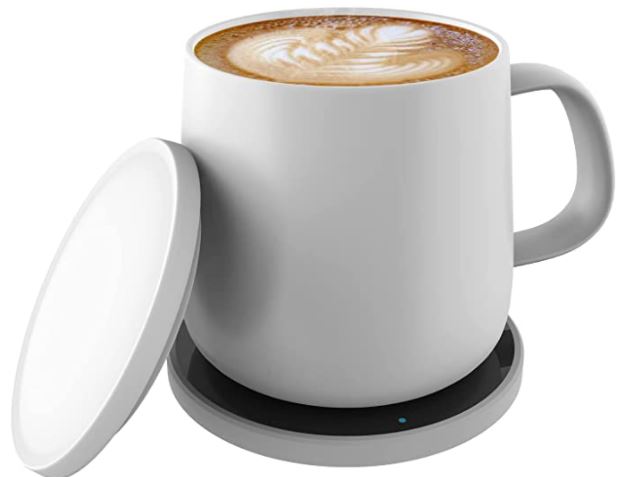 Pin
Features:
Spill-proof Design
Automatic ON/OFF
Wireless Charging Function
Pros:
Self-heating Function
Low price
Cons:
Not as portable as battery-powered models
This smart mug works with a 2500Ah high-capacity polymer lithium battery, VSITOO S3 Pro smart mug can last 4-8 hours on a single full charge; or all day on the charging coaster which keeps your coffee at the perfect temperature from the first sip to the last drop.
Double vacuum insulation makes it possible to keep your drink warm. The intelligent heating system allows you to drink perfect coffee or tea every morning.
The LED temperature light bar indicates the healing process, and the aperture of the touch button shows the current beverage temperature and battery power.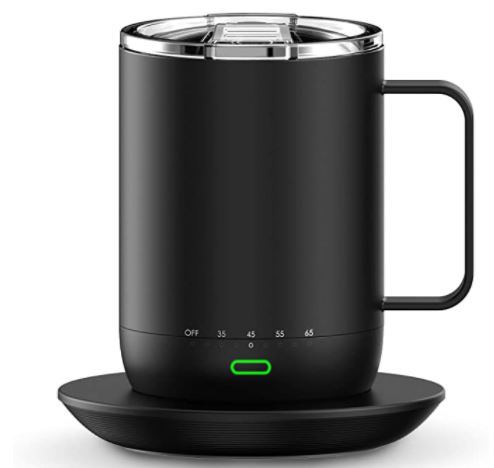 Pin
Features:
Double-Layer Vacuum
Stainless Steel
BPA free sliding lid
Pros:
More affordable than similar models
Includes charging coaster
14-ounce capacity
VOBAGA coffee warmer will keep your coffee at a perfect drinking temperature. You can control the temperature by tapping the button, keeping your coffee or milk up to 104℉-131℉-149℉
This smart cup warmer will shut off automatically after continually working 4 hours. No worry about forgetting to turn it off.
The heating plate adopts sealed-insulation technology to prevent splashing water, which also fits most standard mugs well.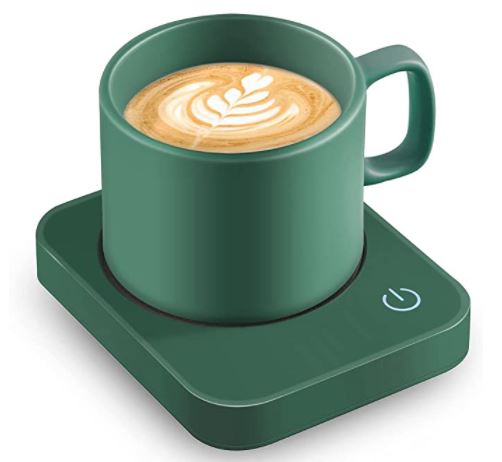 Pin
Features:
Splash-proof & Large Heating Plate
Automatic Shut-off
Portable-to-Carry
Pros:
Multiple colors available
Built-in gravity induction switch, just place your mug on it; it will automatically turn on; there is no need to turn it on/off manually.
Stylish and compact design, easy to carry, you can place it on your working desk or bedside table for your hot coffee or tea.
19-Watt mug is warmer for use with any hot beverages like coffee, tea, milk, etc.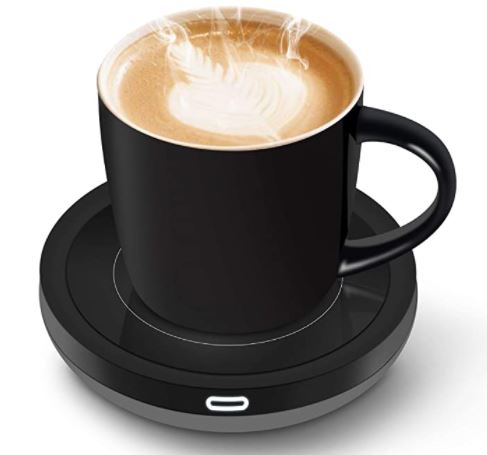 Pin
Features:
Waterproof Design
Automatic switch
Gravity induction technology
Pros:
Suitable for different mug styles and sizes