You may not give faucets at home much attention, but isn't the worst when they start leaking, and you need to change them? This is where a smart faucet comes in to become one of our favorite appliances ever. That is why today, we'll be sharing with you everything you need to know to get yourself the best smart faucet.
Smart designs have been earning high praise since these will allow you to monitor water usage for irregularities constantly; a smart faucet will alert your smartphone of a water leak. Not only do smart faucets help regulate water flow to kitchens and bathroom sinks, but they pack motion sensors and pair with Alexa or Google Assistant so you can control them with your voice, too.
Before making any investments, you'll want to consider a few things before choosing a smart faucet. With many options in the market, it might sound a bit challenging to know what would be a good choice, but if you want to improve your water use experience, you deserve the best smart faucet you can find. Below we'll be sharing with you some of the best smart faucet options out there right now.
Smart Faucet FAQs
What is a smart water faucet?
A smart kitchen faucet lets you quickly turn on the water, even when your hands are full. Some are even voice-activated. A smart faucet can help with that, and some can help with cooking duties by pouring a set amount of water when you ask, like a cup of water, for instance.
What benefits offer a smart faucet?
Hands-free control: Smart faucets are easy to use because the motion-activated sensors turn the water on when your hands come close to the sink and stop when you leave.
Prevents the spread of germs and bacteria: With a hands-free control smart faucet, you and your family's hands never have to touch a tap with dirty hands.
No fingerprints and smudges: With hands-free control, your kitchen sink and tap stays clean because you don't even have to touch them.
Prevents water overflow: One of the mechanical benefits of smart faucets is you never have to worry about water overflowing in the sink or tub.
Monitor water usage: If your household has multiple members constantly using water, one of the most important benefits of upgrading to a smart faucet is the ability to monitor water usage through your smartphone.
Preset water temperatures: Forget about having to wait for cold water to warm up because you can preset your own ideal water temperatures on your smart faucet.
Smart faucets are kid-friendly: If you have kids, then upgrading to a smart faucet will take a load off in your household when it comes to washing their hands.
Early leak detection: Along with monitoring water consumption levels in your household, smart faucets can detect the initial signs of water leakage.
Save money on water bills: Smart faucets contribute significantly to cost-cutting on your monthly utility and water bills. With ongoing water consumption monitoring and preset commands that you determine for exact water disposal, you never waste water or have unexpected water leaks, such as times when someone forgets to shut off the faucet at night.
Do smart faucets save water?
Researchers find smart faucets could aid in water conservation. An experiment with a water-saving "smart" faucet shows potential for reducing water use.
How do smart faucets work?
Smart faucets contain a sensor in the front, ready to receive commands from a gentle hand-wave to turn on or off. A box below the actual faucet controls these to bypass having to physically crank the faucet knob, although that's still always an option too.
What are the different types of smart faucets?
Touchless Faucet: As the name suggests, Touchless Faucet is the type of faucet that you do not need to touch. Such faucets come equipped with various IR sensors that turn on water flow if you wave your hand near the sensor.
Voice-enabled Faucet: The next and most popular type of smart faucets is voice-enabled faucets. With the help of voice-enabled faucets, you can control the faucet by just using voice commands.
Pull-Down Faucet: While a pull-down sprayer faucet is not exactly a smart faucet, it is the one that comes in handy when you need it in certain situations. Using such a faucet, one can easily pull down the spray head and wash stuff which was not possible quickly before.
All in one Faucet: The all-in-one faucet comprises all the three types of faucets we just mentioned above. You get a touchless faucet that is voice-enabled and which you can also be pulled down to wash dishes.
Do touchless faucets save water?
Touchless faucets make everyday life easier and do so more ecologically. The water flow stops automatically when you take your hands from under the faucet, saving both water and energy. You can cut your water consumption by as much as 50% by switching from conventional faucets to touchless ones.
How do touchless faucets conserve energy?
Instead of using a few extra seconds of water to turn off the faucet with your hand, a touchless faucet conserves water by shutting off the valve once you've left the sink. Over a few years, you can save hundreds of gallons of water with a touchless faucet.
What to look for in a smart faucet?
Activation features: Smart faucets are typically either touch, gesture, or voice-controlled. You don't have to pull the included handle, but that's an option, too.
Power supply: Smart Faucets require either batteries or a power outlet. Batteries require occasional changing, but an outlet requires convenient plugs that aren't controlled by a light switch.
Finish: You want your faucet to look good in your kitchen. We've linked to traditional options like brushed nickel or stainless steel, but nearly every smart faucet comes in multiple finish options. You might need to search for a separate listing to find the finish you want.
Smart Faucet
Use the Moen app to provide personalized experiences and control the faucet directly; the Interactive iOS/Android application includes usage data, customizable settings, and control.
Features four unique methods of control that you can mix and match, independent of the handle position; voice, App, Hands-Free, or Manual.
Combine specific temperature and measurement or mix generic commands with specific commands.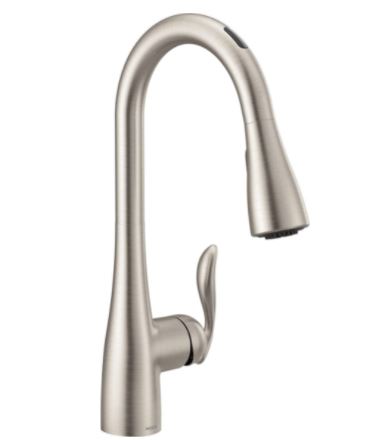 Pin
Features:
Hands-Free
Voice Activated
Customizable Presets
Use your voice-enabled smart home device like Alexa or Google Assistant to power your Delta kitchen sink faucet. Command your faucet to turn on, pour metered amounts of water like 1 cup, or even set custom commands to fill your coffee pot, dog bowl, or water bottle
Patented DIAMOND Seal Technology reduces leak points and lasts twice as long as the industry standard, ensuring leak-free operation for the life of the kitchen faucet.
Touch anywhere on the kitchen spout with your wrist or forearm to start and stop the water flow or use the single handle manually.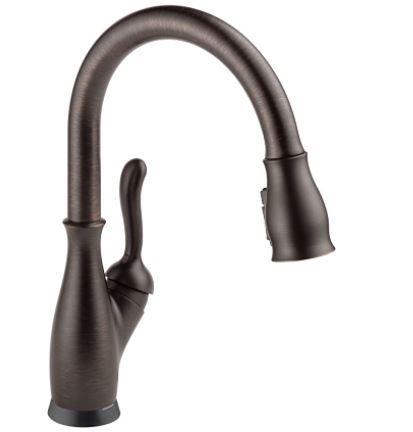 Pin
Features:
Single-Hole Deck-Mount
Bronze
Voice Activated
Pull down the sprayer kitchen faucet with two setting modes: stream for filling water and spray for strong cleaning wash.
Touchless Kitchen faucet provides unique flexibility for kitchen operation, allowing you to easily switch from a splash-free inflation flow to a powerful pre-rinse spray.
No need for hands' touch; the water will flow out through the sensing system and turn off automatically within 3 minutes, which is definitely an excellent way to prevent unintentional contact.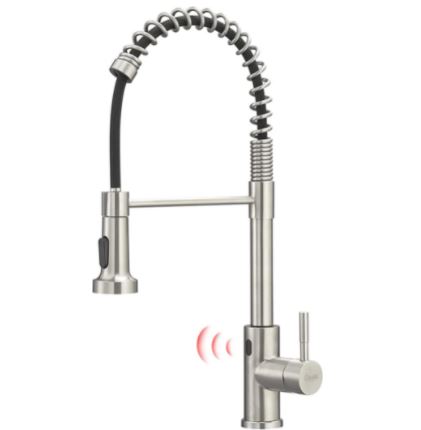 Pin
Features:
Multifunction Sprayer
Motion Sensor Technology
Easy To Install
Kitchen pull-down faucet with commercial SUS 304 stainless steel construction and high-quality ceramic cartridge.
Pull down kitchen faucet with three setting sprayer; the SWEEP is a powerful high-pressure piece of wide sweep water, thoroughly sweep away stuck-on food from your dishes, sink and the bar, or sweep garbage and sewage to the sink drain, no need to re-scrub by hand.
The kitchen faucet's Quick-In system requires only four simple steps to install the tap, without plumbers and specialized tools.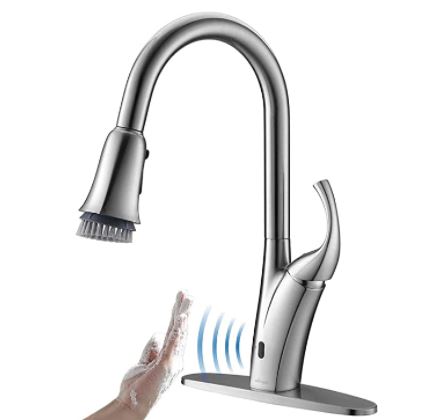 Pin
Features:
DIY installation
Three setting sprayer
Motion infrared sensor
Moen Smart Faucet technology is thoughtfully designed to make everyday interactions in the kitchen more convenient.
Moen has taken the kitchen faucet to the next level from precise temperature and exact measurement to faucet operation from any one of four controls.
The wave sensor positioned at the front of the faucet starts and stops the water flow with a simple hand movement without touching the faucet.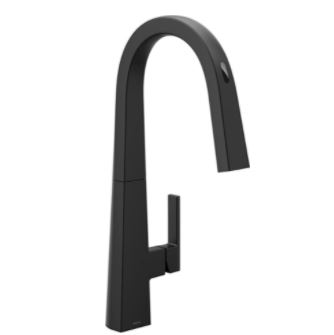 Pin
Features:
Hand-Free
Metal
Voice Control
So you read enough about smart faucets, would you also like to read about these smart touchless soap dispenser options?